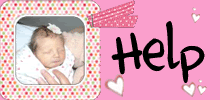 Beckham
's mom, Kim, contacted me a while back to tell me about a family who was expecting a little baby girl. Their little baby, Mia, was diagnosed in utero with the same condition as Noah, Critical Aortic Stenosis. She would need a heart transplant after she was born.
Mia is now here with her family and is very sick waiting in the NICU for her new heart to come. She is so precious.
As you can imagine, even with insurance, the costs involved with a Heart Baby are out of this world. With this in mind, some dear friends of Mia's parents created her a blog to share Mia's story and possibly help her family during this difficult time.
Please take a minute and read this sweet family's story. And if you are so inclind (and I really hope you are) maybe you could even help support them as they struggle to support their family. Even single dollars add up to unmeasurable relief.
Thank you from the bottom of my heart.